robbovius


Feb 18, 2009, 5:36 AM

Views: 2096

Registered: Nov 20, 2002
Posts: 8406


Mt Webster, Crawford Notch NH, solo alpine ascent
Report this Post Average: (3 ratings)

---
I had a great day yesterday (2/17/09) on Mt webster, made a very alpine ascent up to the central couloir, though I backed off on climbing the final gulley - most of you know I've only been climbing ice a year, I thought better of trying to solo WI3 after 5 hours of snowclimbing up the slabs with a 40 lb pack (n00b brings too much gear, duh). I ate lunch there though ;-) I am happy to report that my new BD reactors work just as fine in an alpine setting as my leashed Alpaxes.

the weather was beautiful, the snow pristine (except for the couple-day-old footprints I followed up ;-) ) I had the mountian all to myself, up there all alone in humbling solitude. I made every footfall, but one, freedom-of-the-hills textbook...thus do we learn.

here's a few pics/miniTR photoessay.

Hit the road about 5:30 am, arrived at the willey slide pullout about 9:10. the Saco is much easier to ford when most of it is frozen...

and so it begins...




At the slabs base: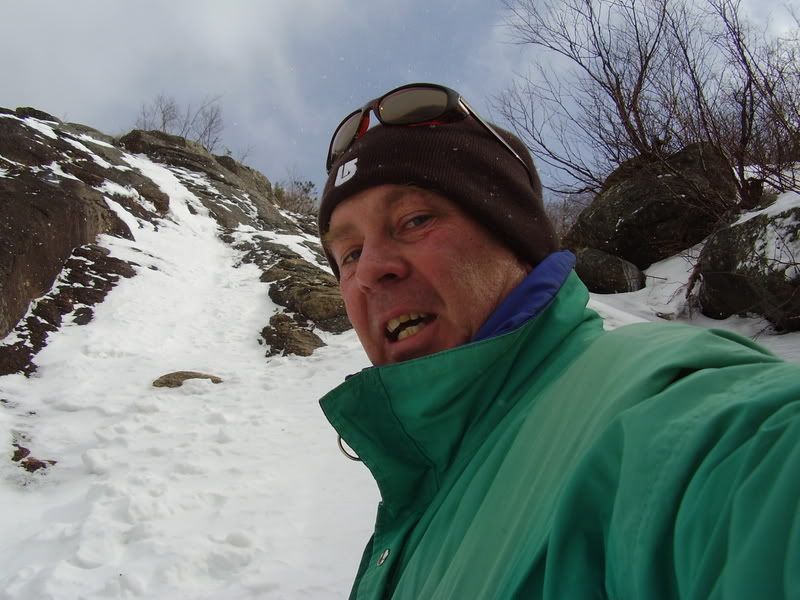 about 200 feet farther on, the headwall/gulleys look close don't they? NOT.




3 hours later...sittin' in the snow, havin' a rest. my camera was a bit blinded by the bright snowfield, you can just make out the pond by the Willey house at the top of the pic.




almost there!!!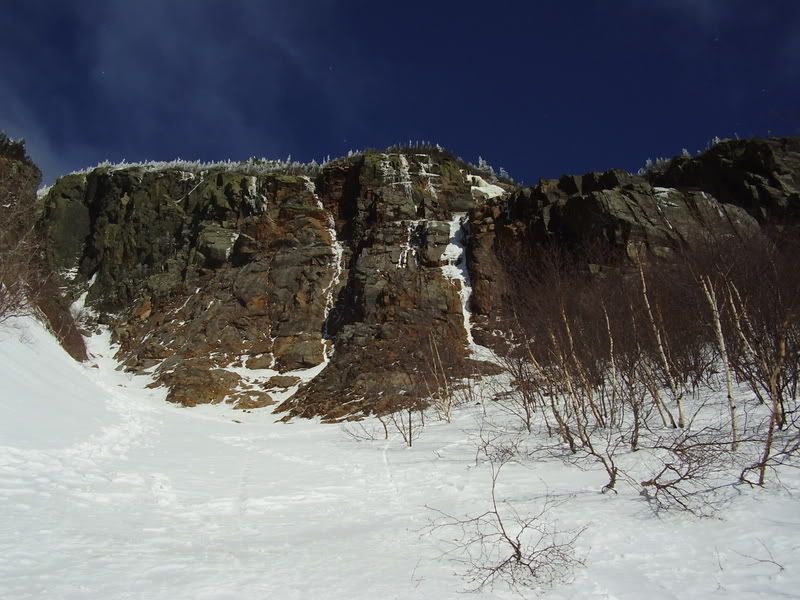 THERE! SUMMIT!!!! uhh, not today...;-( by this time my quadriceps are smoldering, and I have about 1.5 hours of daylight left, and I know if I summit, (besides not wanting to scare the crap out of myself soling Ice I don't think I'm ready for) I'm commiting to decending the webster trail and about a 3 mile hike back to the car, so, much like the first time I rope-soloed the Central Gulley Slabs in '07, I look wistfully up at the pitches left unclimbed...save the best for later, etc etc.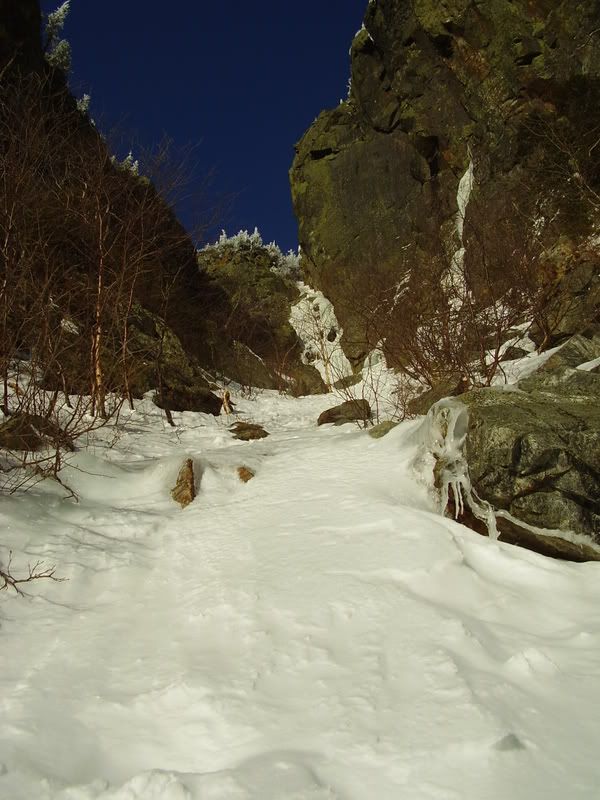 A view from up in the couloir...awesome, I felt small and vulnerable. never mind the thumb there.





But, I'll be back in the warm months for this and other inviting pitches of rock I saw there.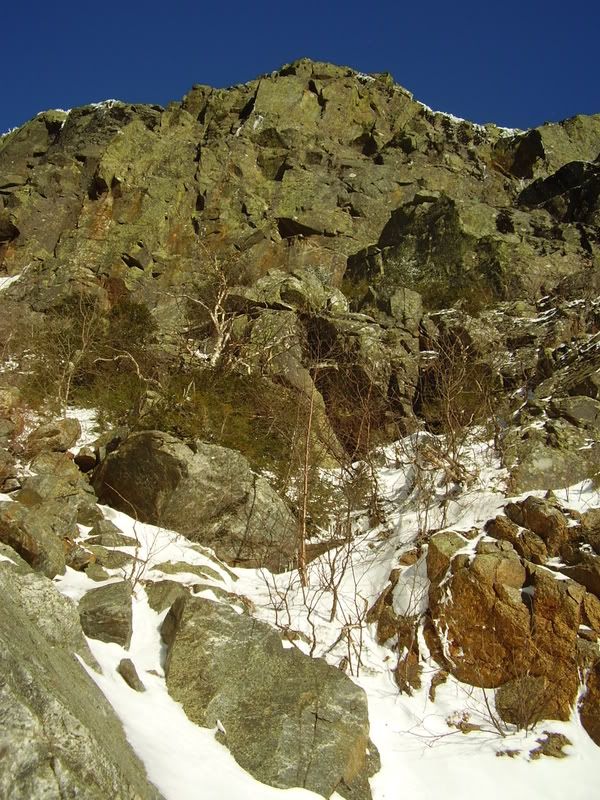 looking down from the midst of the couloir before I begin the first of several long, slow glissades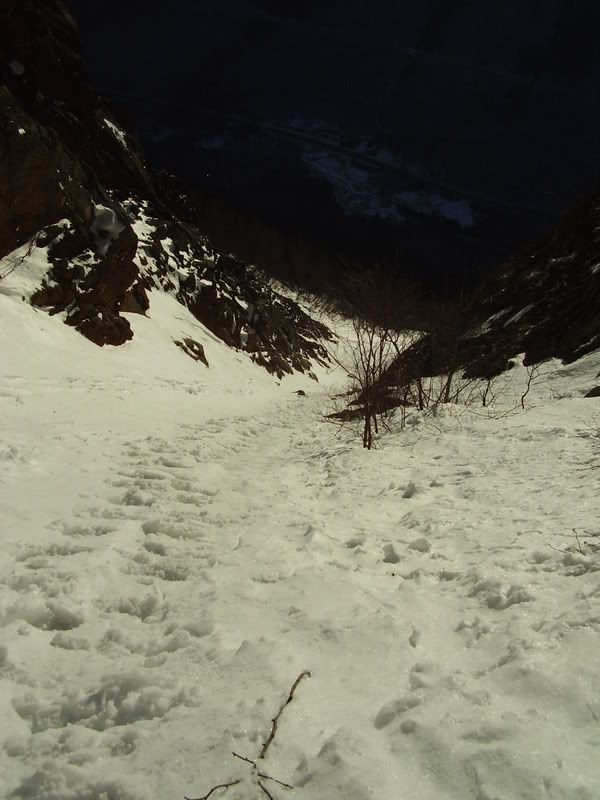 I made it back to the car just as the sky got totally dark.

it was a really great day, had an awesome time. a HUGE confidence booster for my alpine footwork/technique and endurance.


(This post was edited by robbovius on Feb 18, 2009, 6:18 AM)