LostinMaine


Jul 4, 2012, 5:25 PM

Views: 28287

Registered: May 8, 2007
Posts: 539


There are threads galore about anchor building with sliding X's, cordelettes, equalettes, stupidlettes, and every other gizmo under the sun. Anchor books skim over the good old days when cave men in lycra or EBs simply used the climbing rope for building anchors. When they are described, they are always described at a disadvantage because they are presumably static with poor load distribution among anchor points. There is a strong contingent of climbers who eschew the 'lettes in favor of the rope.

For those who prefer to use the climbing rope, what is your preferred rope anchor design when in these two "ideal" conditions:
1. 3 bomber nuts in a vertical crack with a fourth set for an upward pull

2. 3 bomber cams in a horizontal crack

In scenario #1, I generally figure-8 to the top-most piece and clove hitch the remaining pieces trying my best to equalize them.

In scenario #2, I tend to focus on the two strongest pieces and tie in with a bowline on a bight and clove hitch the third somewhat snugly.

I'm curious what others typically do since most all of my partners use cords and slings in mystifying configurations.

Edited to add image with redirect for 3 horizontal placements.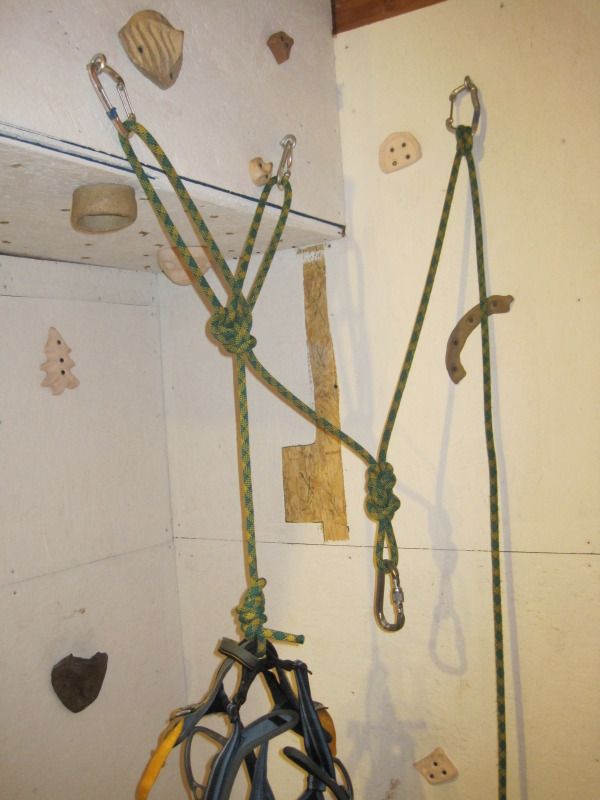 (This post was edited by LostinMaine on Jul 5, 2012, 11:08 AM)