billcoe_


Dec 3, 2012, 7:04 PM

Views: 17290

Registered: Jun 30, 2002
Posts: 4692


Re: [BreezySocks] What are the most important characteristics in a climbing sock?
Report this Post Average: (0 ratings)

---
Made clicky http://www.breezysocks.com/

Thanks for bringing new stuff out Jeff. I have a use for socks some of these guys don't need or want: winter ascents. I have an oversized pair of old Red Chilli shoes that I use in the winter or on a long route I want comfort....with a pair of socks.
The center pair in the photo below as seen 3 years ago next to a new pair of the same model. 6th resole ... so far. Stitching is starting to go now.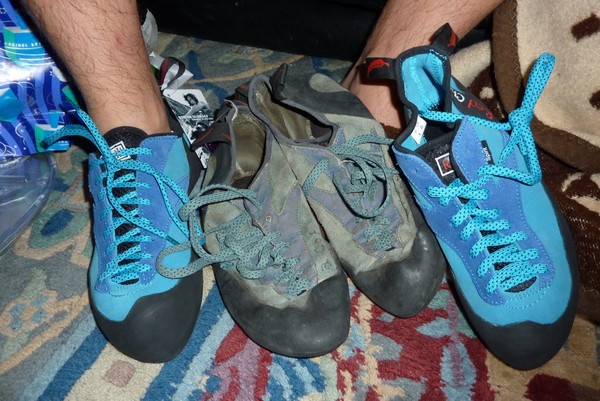 However, I've been using the Wigwam Polypro socks and will note that it is thin, strong, wicks moisture and will most importantly reach further up my ankle so that when the winter winds are howling my ankles don't freeze.


Planet Granite is suppose to be putting in a gym close to my house, if they do, I'll look at your socks. Thanks for posting.

Bill


(This post was edited by billcoe_ on Dec 3, 2012, 7:07 PM)