Partner Pulley
Item Details
|
Reviews
(
1
)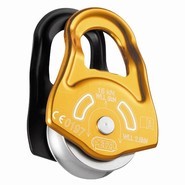 Manufacturer:
Petzl



Available now at:
Description
Petzl Partner Pulley Spring 2010 The Partner Pulley by Petzl. The PARTNER pulley is compact and light, yet ensures excellent efficiency with its aluminum sheave mounted on sealed ball bearings.FEATURES of the Partner Pulley by PetzlExtremely lightweight and ultra-compact pulleyQuick and easy installation due to the swinging side platesSheave mounted on sealed ball bearings for excellent efficiencySPECIFICATIONS:Sheave diameter: 25 mmRope diameter: 7-11 mmEfficiency: 91 Certification: CE EN 12278, UIAAWeight: 56 gMade in France3-year guaranteeMaterials: aluminum side platesMaterials: aluminum sheave with ball bearingsWorking load: 5 kN 2.5 kN on one rope endBreaking strength: 15 kNLogistical information: Sold individuallyLogistical information: Case quantity: x 13
1 Review
Small, light, and solid
Review by: Wall-Ninja, 2011-02-28
Handy to have its good and good. Could be stronger. Seems to be a little light for such an important piece of gear.