William Locking Carabiner
Item Details
|
Reviews
(
1
)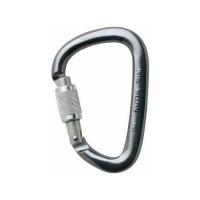 Manufacturer:
Petzl



This item may be available at:
Description
The Petzl William Locking Carabiner is well Suited for organizing at belays and belaying with a Munter hitch.Large size to allow anchoring of several ropes and slings.Large opening.Wide pear shape facilitates belaying with a Munter hitch on single or double ropes.Keylock System snag-free body / gate interface.Available with manual locking system SCREW-LOCK or automatic locking system BALL-LOCK, TRIACT-LOCK.Technical Specifications: CE - 90 gStrength: 25 kN long axis, 7 kN open gate, 7 kN short axis.
1 Review
Great for beginners
Review by: Tstef, 2010-10-25
The locking mechanism screws really fast - one good spin and a bit of twisting at the end will fasten this baby really well.

The specific Petzl red alert line jumps out if the biner is not properly locked. Makes it easy for everyone (from beginner to expert) to spot that something's wrong before it can do any damage.

Super big opening means that even the fattest ropes will be a breeze to clip.

Great product overall. Highly recommended!