Next

10 mm Non-Locking Steel Oval
Item Details
|
Reviews
(
1
)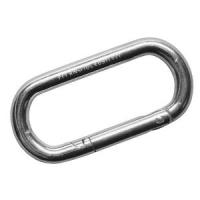 Description
Austrialpin 10 mm Non-Locking Steel Oval. If ever you were thinking,Bro, Im told thats how climbers talk these days,Bro, these non lockers are sweet, but theyre too light, and their steel content is, like, way too low. Well, if ever you thought that rejoice. Austiralpin has made a galvanized steel non-locking carabiner. This biner is perfect for settling up slacklines, or other applications that where locking isnt crucial, and high abrasion resistance or strength would be handy.
1 Review
Useful Information
Review by: toboredtosleep, 2011-04-20
Purchased these carabiners for a slackline, didn't know the rating for them was only 10kN. They will fail when put into use with a slackline. Just so everyone knows so you don't get screwed over like I did.

The new description, via GearX says, "Check out these steel non-lockers from Austrialpin. Great for dog leashes!". Also would never recommend GearX as a company as they have terrible customer service and were a pain to deal with during the return of these carabiners.