Fuse 9.4mm single rope with Duratec Dry treatment-60m
Item Details
|
Reviews
(
1
)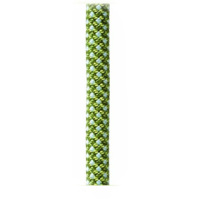 Manufacturer:
Petzl



This item may be available at:
Description
For such a skinny and light single rope, the FUSE can withstand the rigors of multiple falls or endless pitches over rough rock. Its burly, tight sheath makes it perfect for sport climbing or fast-and-light adventure climbing. Stiffer than most,it practically clips itself to draws and glides effortlessly through carabiners. Duratec Dry treatment helps prevent the rope from absorbing water ? which can weaken a rope and make it difficult to handle in freezing conditions. Before a Petzl rope is constructed, the core and sheath strands are individually treated, providing water repellencty in case you find yourself in a deluge, snowfield or on a dripping ice chandelier. All Petzl ropes are butterfly coiled in the factory and are ready to use straight out of the package. This coiling method means no more tangled mess when you first use your new rope. Gone is the tedious operation of carefully uncoiling, flaking and reflaking your new rope, only to end up with annoying kinks. With a Petzl rope, just tie-in and start climbing.
1 Review
Rope
Review by: Climber8080, 2010-07-27
This petzl rope has it all. The thin and light rope feels amazing while clipping. The rope may seem too skinny, but I have taken it on multiple trips with tons of whippers and it still has not frayed or shown any signs of dead spots.