Glider 10.5MM And 10.2MM
Item Details
|
Reviews
(
2
)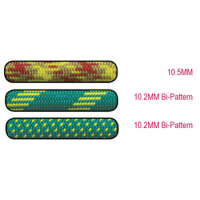 Description
GLIDER 10.5MM AND 10.2MM: The Glider series represents the ultimate in durability and reduced rope drag. Built to the same high performance standards as our Apex products, ropes in the Glider series utilize TPT sheath, significantly reducing drag. This technology, according to Rock Ice Magazine, 5Bcreates5D a fabulous feel without being soft and mushy85noticeably reduces drag855Band is a5D real joy to handle with minimal kinking85 The Glider is the perfect Sport and Trad climbing rope, and is a good all-around choice for extreme free climbing.
2 Reviews
One of the best ropes on the market!
Review by: USnavy, 2010-07-05
I purchased the 10.5mm x 70m sunset colored version. I mainly purchased this rope for multi-pitch sport on sharp limestone in Mexico. I ended up using this rope to climb Timewave Zero, IV / V, 23 pitches and The Nose, VI, 31 pitches. I have also used it on about 120 pitches worth of multi-pitch sport before bringing it on the two walls listed previously. I fall on it regularly (up to 30'), and even after climbing the two walls, its still in great shape. It clips very well and itís very smooth. As the name suggests, it "glides" across the rock which produces a noticeable decrease in rope drag. The rope has an excellent modulus of elasticity which produces a relatively soft catch despite its high impact force.

However keep in mind that this rope is more difficult to control then other rope of similar diameter. All of the Glider series are a bit thinner then other ropes of equivalent diameter and they are harder to hold on. Consequently I would use caution when belaying with the smaller diameter of the Glider series until you have become accustom to its slippery profile.

The 9.9 mm diameter is perfect for a sport projecting rope. The larger 10.2 and 10.5 is good for wall climbing and heavy use or top roping. If you plan on climbing on gear with this rope keep in mind that this rope does have a very high impact force. My only complaint is the 10.5mm version is a bit on the heavy side (70 g/m).

10.2mm 60m Bi-pattern Glider Maxim Rope
Review by: climballnight, 2010-05-14
Of all the ropes I've had and climbed with, after about 2 years of use on this rope it is still by far my favorite. It is amazingling not-kinky, has never gotten stuck on pulls (knock on wood), feels light when climbing (I've noticed this when trailing a second rope on long multipitch leads, being the rope I clipped, it still had comperable or even less drag than the trailed rope), and of course is easy to clip. It doesn't have that stiff cable-like feel that some ropes get, nor that wimpy overly supple feel that others have. I've heard from some that Maxim ropes get fuzzy with use, but the sheath on mine still looks and feels like new. True I do try to take care of it, and use other ropes for abusive days getting stepped on in the dirt with beginners at Jtree or sport crags, but any time I'm pushing my own limits or climbing with my beloved girlfriend, this is the treasured rope we take. My rope is very much due for a rope-wash though, I've never put it to that test yet... ':-D I've had one pretty good 10-15' fall on it, which got me thinking I should look into getting another one... if only I could find one in another color at REI with my dividend... I don't think mountaingear.com carries it... I'll have to keep looking.