Elite Harness
Item Details
|
Reviews
(
2
)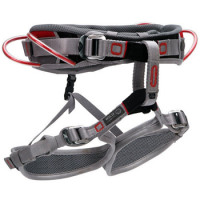 Description
As soon as the Comfort Mesh wraps you oh so snugly in store, its obvious that this harness is a class apart in comfort and when you take that first plunge or are stuck on a hanging stance, your good decision to get an Elite harness will hit home.Ziplock buckles are now standard throughout making leg adjustment a cinch as well as the waist and with a bunch of truly usable extra features, the Elite Harness is a stylish harness thats strong, safe and serious.
2 Reviews
Elite
Review by: jaherrenz24, 2010-11-20
It is really comfortable and has good features that make it great for year round climbing. I love it
wc elite ziplock 2010
Review by: jong, 2010-06-24
The fit is fantastic! And the workmanship is impeccable.. Am happy!