Womens Primrose Speed Adjust Harness
Item Details
|
Reviews
(
2
)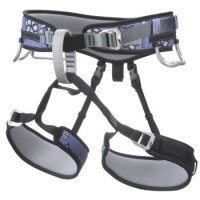 Description
The Black Diamonds Primrose SA is anexcellent year-round womens harness for ice, sport and trad climbing. Equipped with BDs new pre-threaded Speed Adjust buckle on the waistbelt and the contoured leg loops, the Primrose SAs fit can be dialed in quickly with one hand. Weight: 380 g 13 oz estimated Size Medium
2 Reviews
great for beginners
Review by: shelleyurquhart, 2012-03-31
I have done mostly indoor climbing and this is my first harness. I am very pleased with it so far. Very comfortable, fits my body perfectly and best of all, I got it on sale for $32 from Campsaver.com.
Remanufactured SA buckle is bomber!
Review by: sierragal93546, 2011-06-05
Bought this harness November 2009. Had problems with the SA buckle slipping constantly and needing to be tightened after almost every climb. I finally contacted BD and they not only took it back without a receipt, but expedited an IRIS harness with traditional buckles so I could still climb on the weekend. They then sent me a new Primrose with newly manufactured SA buckles to field test...all at no cost. They added a small divot on the buckle that makes all the difference! The buckle stays put all day. Both the Primrose and Iris are very comfortable but the best thing is the placement and rigidity of the gear clips. I tried several other harness makes but the gear loops were always a problem. I'm a beginner so easy clipping onto the gear loops is key. I would highly recommend both of these harnesses for comfort, safety, and function. I'm 5'3" and 118 lbs. A size small fits perfect if fully cinched.