Link Cam 2
Item Details
|
Reviews
(
1
)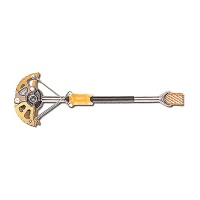 Description
Omega Pacific is here because they are dedicated to the climbers, rescuers and workers who depend on their gear with their lives. Their motto, It Is Possible is more than just a slogan... it is what they believe.Description Of Omega Pacific Link CamsBuilding on a revolutionary concept from legendary gear designer, Greg Lowe, Link Cams operate on a simple concept of trisecting a cam lobe so that, as the device is retracted, the cam unfolds and permits an amazing range for a unit of its size.Utilizing a reliable, single-axle design and with a camming ratio of over 2.51, Link Cams provide more range per size than any other spring-loaded camming device availableExtended range means you can leave the ground with fewer pieces on your rack no more doubling up on pieces you think you might need if youre unsure where, exactly, youll need doubles of one particular piece. Likewise, for backcountry climbers, it means packing in less gear. And as a crux piece you need RIGHT NOW, Link Cams large range increases your odds of picking the right size the first time you go to your rack.FeaturesMade in the USA
1 Review
wide range and off-set feature
Review by: winglessangel, 2009-09-28
For me their best feature is not the 3 in 1 sizing but the fact that they work as an off-set cam.
They are a bit heavy for a link-only set but perfect for the "repeat" piece. And the number two is the must have repeat.
Just be careful not to place'em in pockets.