Lassen Backpack - 4550 cu in
Item Details
|
Reviews
(
1
)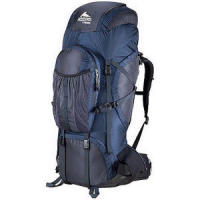 Description
The Lassen Backpack from Gregory is the ideal pack for anyone who requires easy access and organization in a mid-size backpack. Its narrow profile fits women very well and makes the Lassen an excellent choice for backcountry travel where bushwhacking may be required. Using ultralight 210denier Arrowhead ripstop pack cloth and 3/4 inch webbing has reduced the weight of the Lassen by a full pound over last years model. And the fit will make the trail miles fly by. An adjustable waistbelt and rotating shoulder harness move to accommodate the angle of your hips, the slope of your shoulders, and the width of your neck. They work together with two aluminum stays and a floating framesheet to deliver the cushiest ride this side of a Cadillac.
1 Review
Lassen
Review by: cotter08, 2012-10-21
I bought this pack in 2007 for a 12 day trip to philmont scout ranch with my boy scout troop. This pack was great, I loaded it down with 70+ lbs of gear for the trek and I didn't have any problems carrying it. I am still using this pack and it is not falling apart. I am very pleased with the Lassen I would definatly buy another one.