Gorge Pack
Item Details
|
Reviews
(
1
)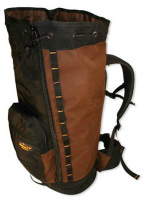 Description
The Gorge Pack features a large, funnel shaped opening which loads easily and quickly secures via drawstring closure. A full length, heavy duty zipper allows you quick and easy access, even to items buried in the bottom. Handy outside pockets easily handle loose items such as chalk, lunch or guidebooks. The thermoformed shoulder straps, hip belt and back panel all combine to provide a comfortable and supportive suspension system. Pack comfortably fits my rope, two pairs of shoes, trad rack, slings and beaners, belay/descent gear, helmet, water, food, and guide book. It has two exterior daisy chains to attatch more stuff if you like and a cover in case you want to tote an extra rope. There is also a hidden inclement weather hood that covers the top of the bag. The bag is designed with a "stand up bottom" that keeps the pack upright even when empty. This is the last pack you will ever have to buy. You can't beat it for design, comfort, and durability. Size is 3000 cubic inches.
1 Review
Misty Mountain Does it Again
Review by: gripster, 2009-08-26
I have always been pleased with Misty Mountain's quality products and the Gorge pack does not disappoint! The pack is really the perfect size for most climbers, and it makes the typical load feel much lighter. I am a big fan of the full length zipper so I don't have to worry so much about strategically loading everything in anymore. Instead I can just unzip the side and get to whatever I need. The hidden weather hood is a great feature as well. Remember you get what you pay for. If you are looking to by the last pack you will ever need (at least for climbing) then this pack is for you. You will also be supporting an American manufacturer that is committed to green and sustainable practices. I suggest you check out their website and take the virtual tour and see where your gear is coming from!