RunLite Waist Race Hydration Belt - 16 oz.
Item Details
|
Reviews
(
0
)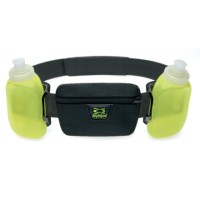 Manufacturer:
Amphipod



This item may be available at:
Description
With the Amphipod RunLite Waist Race hydration belt enjoy comfort and easy access to your hydration fluids without breaking stride. Ultralight, rip-and-stick adjustable belt has 2 docking bases with flasks. Docking bases are securely attached to the bounce-free, Comfort-stretch belt. Docking bases allow vertical and horizontal bottle-attachment positions, so you can configure it the way you want. SnapFlask bottle technology features squeeze-easy release and snap-in replacement to the docking base, providing effortless access to your fluids. Included are 2 8-fl. oz. flasks, each with a 43mm wide mouth that makes it easy to fill and clean. Polyethylene flasks are 100 BPA free.