Titanium Cookware - 3pcs
Item Details
|
Reviews
(
1
)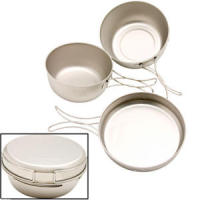 Description
The Snow Peak Titanium Cookware 3-piece set is the minimalists cookset. Ultra light is the name of the game with this 3-piece modular set. The Snow Peak Titanium Cookware nests neatly with other Snow Peak products for convenient storage and packing. It includes a large pot, small pot, and a frying pan. Total stowed dimensions are 5.5 x 2.25, and it weighs 7.1oz, making it perfect for fast n light minimalists. A Snow Peak GigaPower stove fuel canister can be neatly stowed inside the smaller pot. Rounded edges actually make cleaning up a lot easier, as well.
1 Review
The perfect 1 person cook set
Review by: JupitersCock, 2013-01-22
Just enough for 1 person and light enough to make it into my ultralight camping setup. Gotta love titanium and of course snow peak, all their stuff is top notch.