Four-Way Water Treatment System - 34 oz.
Item Details
|
Reviews
(
0
)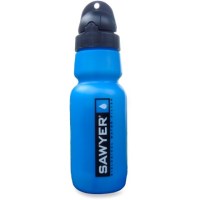 Manufacturer:
Sawyer



This item may be available at:
Description
The Sawyer Four-Way Water Treatment system gives you 4 options for using the hollow fiber membrane filter to produce clean drinking water while on the go. Use the filter with the included water bottle to treat water as you sip or use it as an inline filter for a hydration reservoir, household faucet or homemade ultralight system. Filter can be used to make your own gravity filtration system or even as a prefilter for your pump filter. Filter physically removes particles, protozoa, and bacteria down to 0.1 micron in size, including giardia, salmonella and cryptosporidia. All Sawyer water filters meet or exceed Environmental Protection Agency EPA recommendations for removal rates. Filter is fully field maintainable to ensure a fast flow of water. All Sawyer water filters and purifiers come with a Million Gallon Guarantee, essentially eliminating the need to ever have to replace the filter cartridge. Includes 32 fl. oz. bottle with cap, hollow fiber filter, faucet adapter, replacement straws, hydration pack assembly kit and instructions. Polyethylene bottle is 100 BPA free.