Climbing DVD - Blood, Sweat and Bagels
Item Details
|
Reviews
(
1
)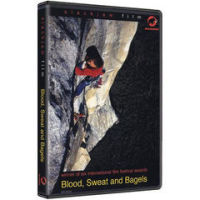 Description
Check out this action packed Climbing DVD, Blood, Sweat, Bagels.
1 Review
Boo-hoo
Review by: josiahdood, 2009-11-01
The low-down: two British dudes who can crimp really hard think they can free Salathe. They get to the valley and get spanked on Yosemite 5.10 and then whine their way up the wall. The upside? Great footage of the actual route.