Climbing DVD - Sport Climbing 101
Item Details
|
Reviews
(
1
)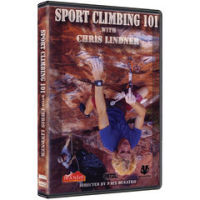 Description
Check out this action packed Climbing DVD, Sport Climbing 101.
1 Review
Informative
Review by: thehumanspud2, 2010-03-16
As a UK climber i've found it hard to find a good introductory DVD to Sport Climbing. Being fairly new to climbing and very new to sport climbing, I know a lot of experienced climbers will be tempted to say "just get out there and do it" and I have no doubt that's the best way to learn – go with someone experienced. That said this is a great how-to DVD; nice step by step instructions and some really useful tips, all delivered in a light hearted but knowledgeable way.

Chris Lindner is easy to follow and thorough in the safety aspects (being the most important for a noob like me!) and whilst I would never hit the wall based on just one DVD, I really recommend this for those making their first steps onto the (sport) rock. Importantly it also covers all aspects from the climber AND belayer's perspective – its easy to find videos of climbers doing there thang, but not from the more important perspective of the belayer….

All in all, I don't think you'll be disappointed. I certainly wasn't.

Recommended.