The Sharp End Sender Films
Item Details
|
Reviews
(
2
)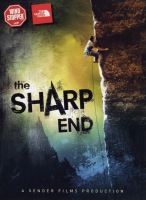 Description
The Sharp End Sender Films. Enter the danger zone with legendary climbers Tommy Caldwell, Steph Davis, Matt Segal, Lisa Rands, Ammon McNeely, Alex Honnold, Chris McNamara, Dean potter, Nenan Ozturk, Jonny Copp and many others.
2 Reviews
Pretty Cool!
Review by: fuzzymonster, 2011-04-18
The video showed a number of different climbers, locations, and types of climbs. Base jumping, free soloing, high balling, huge run outs... stuff you wouldn't do, but always wanted to see! Didn't buy it, just borrowed it from a local group, but would definitely buy it. Over all well put together and kept me hooked, at the end I was like "It's over?"
Scary
Review by: skaplan, 2010-07-14
Great, but super scary