Instinct S Shoe
Item Details
|
Reviews
(
1
)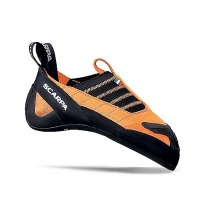 Manufacturer:
Scarpa



Available now at:
Description
Free Shipping. Scarpa Instinct S Shoe Spring 2010 Scarpa Product Warranty SCARPA products are covered by a 1 year limited warranty from the original date of purchase. This warranty covers defects in materials and workmanship. Damage that is due to normal use and wear, abuse or accidents is not covered by this warranty. Products that have been resoled or otherwise modified are excluded from this warranty. Fit is not covered by this warranty. Except as otherwise specified above. SCARPA MAKES NO WARRANTY OF ANY KIND, EXPRESSED OR IMPLIED, INCLUDING WITHOUT LIMITATION ANY WARRANTY OF MERCHANTABILITY OR FITNESS FOR A PARTICULAR PURPOSE, OR ANY WARRANTY AS TO THE DESIGN CONDITION OR QUALITY OF MATERIALS AND WORKMANSHIP TO THE PURCHASER OF THE GOODS PURCHASED HEREBY OR ANY OTHER PERSON WHATSOEVER. SCARPA North America, Inc. reserves the right to make all warranty determinations which may include but are not limited to repair, replacement or credit for the product. If it is determined that there is no warranty issue with the returned product, the product will be returned to the dealer with a note of explanation. We ask that dealers are our first line of service in the warranty evaluation process, and prefer that all consumer warranty returns be handled through an authorized SCARPA dealer.
1 Review
Surprisingly nice
Review by: jason, 2010-10-05
I don't know how Scarpa slipped under my radar. I've always been a die hard Sportiva fan, but have owned easily over 20 pairs of climbing shoes from different companies. I always like trying new things, and them selling them if I don't like them. I used to work in the industry, and took advantage of the deals. :)

I got these when I destroyed my Muira VS (amazing) and wanted a new pair, but gave these a try... I've seriously never had shoes fit like this. GLOVE! I've also never found a slipper that I didn't think sucked @ss after heel hooking in them. Slippers have always been a serious no no for me, but these stay on.

I don't feel like these will be my all around go-to shoes, my Optimus Primes (also a surprise) will be for that. But these will be my go to shoes for the hard boulders.

Too bad they look like a freaking carrot. UGLY!