TC Pro Climbing Shoes
Item Details
|
Reviews
(
3
)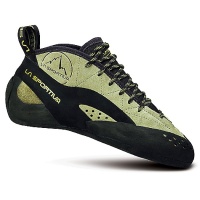 Description
La Sportiva TC Pro Shoe Fall 2009 The TC Pro Shoe by La Sportiva is the ultimate technical big wall free climbing shoe developed in collaboration with Tommy Caldwell.Designed to provide powerful, technical edging AND crack climbing prowess without compromising either. This game changing, mid-height edging machine will take you out of a technical thin hands to rattley fingers crack and out on to the diciest dime edges you can find. Thin padding in the ankle and above the toes protects you in the cracks and the patented P3 platform delivers sensitive yet powerful edging abilities. The toes flat fit is perfect for comfortable crack climbing and the ventilated tongue and lateral rand perforations promote air-flow. We worked with Vibram on a new rubber compound that works best for technical edging and developed the XS Edge compound which holds an edge better on sharp micro edges. Specifications:WEIGHT: 8.71 oz - 247 gLAST: PD 55FIT: Tech w/ Medium-High AsymmetryUPPER: Leather/ Vibram rubber randsLINING: Unlined underfoot/ Sentex/ PU foam/ Airmesh tongueMIDSOLE: P3 with 1.1mm LaspoFlexSOLE: Vibram XS Edge
3 Reviews
My Magic Go To Shoes for everything
Review by: sierragal93546, 2011-07-14
I'm a female climber with size 7 street shoe and a rather large bunion on my right foot. Size 37.5 fits great. I'm still fairly new to climbing (about a year) so any time I need confidence on a new kind of rock or climb, these are my go-to shoes. They've worked so well on everything (granite slab, steep overhanging face, cracks, sandstone, etc) that I started using them for everything. The only downside is it is not as sticky as I would like for small knobs on smooth granite. Still looking for the ultimate sticky shoe for slicker rock.
Great shoes with comfort
Review by: KaiJPN, 2011-01-24
I bought this shoe for sport routes. I sized it comfortably, meaning fingers full flat and I can move all my fingers inside toe box. It still edges really well on micro edges. (Having great edging power with comfortable fit is what TC himself went for and I think it is dead on!)

One thing to I noticed was that because the midsole is stiff, it is not a super sensitive shoes; so YOU have to super sensitive when feeling your foot hold. It took sometime to get used to but after that, I could really rely on the shoes and it helps my toe a great deal of support. My toes don't get "pumped" for edging for a long time and I am still thrilled to wear this shoes everytime I go climbing. I hardly use my Miuras (half size smaller) anymore!
Very interesting, high performance piece with comfort
Review by: martinheynert, 2009-08-06
Comfortable to wear for longer periods AND high performance on small edges AND good friction? Yes, you can get it all from this shoe. I was sceptic first but after 3 months of use, only outdoors, I am very satisfied. With 85 Kilogramms, a stiff sole is right for me. The 5mm-sole in combination with the P3-midsole gives even me excellent holding power on the smallest edges. But the new rubber is also very "grippy". I selected this shoe slightly smaller than a full "toes flat fit". My toes a little bit curled, not a lot, just so much to bring a light pressure to the toe point. With this fit, I can wear this shoe without problems for approximately one our nonstop.

The padding zones reduces pain while jamming in cracks and the high (full) coverage of the ankles give peace of mind in rough granit or sandstone cracks when horizontally and deep jamming.

Quality is superb. This shoe seems to be build for eternity (in terms of climbing shoes, of course). After some 3 months of 2 x/week outdoor use in different types of rock, mainly rough granite and sandstone, there are only marginal signs of wear and tear both on the upper leather and on the Vibram rubber.