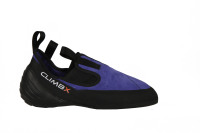 Manufacturer:
Climb X



This item may be available at:
Description
Using words like "affordable" and "great value" to describe the Rad Moc make this specialty shoe sound somehow less than it is. The deceptively simple slipper is an award-winning desgin, excels at cracks and at the gym. The Rad Moc: affordable excellence. Now with an upgraded hooking heel and full descent tread.
2 Reviews
Climb X Rad Moc
Review by: agarrett_9, 2010-10-10
This my go to shoe for bouldering and training in the gym. It edges like a dream and is the incredibly comfortable right out of the box. Also it is perfect for working footwork!
Rad Moc from Climb X
Review by: rachel.elkon, 2010-09-27
If you want a shoe that provides a technical edge and performance but is still comfortable.... look no further the Rad Moc is for you! This slipper can climb it all, boulders, cracks, and sport routes. This shoe will help you send your latest boulder project and then make you feel calm on the way down because of the descent tread. Looking to jam your foot into a crack? So is the Rad Moc.