Demon Velcro
Item Details
|
Reviews
(
1
)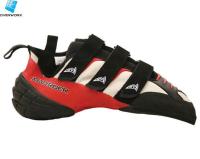 Manufacturer:
Mad Rock



This item may be available at:
1 Review
Best Edging Shoe Ever
Review by: Iceclimbs, 2011-07-06
Whenever a climb needs to get done, this is my go to shoe. This shoe can pull on any type of foothold. The rubber in this shoe pre vails. It is super sticky. It is painful to break in but definitely worth it when it finally fits well. It'll feel harder to put on for people with wider feet. The heel takes some getting use to climb with, if you aren't use to the Mad Rock ridged heels, but when you are comfortable with it, the heels are amazing.