Mutant Climbing Shoes
Item Details
|
Reviews
(
1
)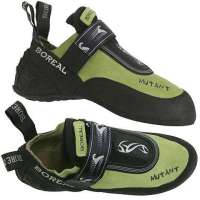 Manufacturer:
Boreal



This item may be available at:
Description
Description of Boreal Mutant Climbing ShoesThe new last provides maximum precision and the perfect balance between sensitivity and fit. Perfect for extreme climbing and bouldering, indoors and outside. Excels on overhanging walls.FeaturesWeight 460 gr.High quality split leather upperElasticed footwrap systemAdditional velcro closure provides the perfect fitNo liningHalf midsole with anatomic cutawayBoreal FS-QuattroThickness 4 - 4.6mmIRS sole and heelSlip-lasted construction
1 Review
Perfect Slipper
Review by: omgtentacles, 2012-09-11
For some reason, the Mutant is categorized as a velcro but it really should be treated as a slipper. I'm not looking to write compare/contrast reviews, but I will say that I've also used the FiveTen Anasazi Moccasym as well as the FiveTen Team slippers, both of which are currently popular in the United States. Amongst the 3, Boreal's older Mutant is still superior. It's too bad they no longer continues such a great slipper...

My ideal slipper is the following- soft/sensitive; semi-aggressive; reasonably comfortable; easy to slip on/off; and versatile enough for both outdoor (bouldering/lead) and indoor. The Mutants have it all.

Slippers usually sit more towards the comfort/convenience side. Boreal however has found the balance between performance and comfort. On the performance side, the FS-Quattro rubber is about average in terms of stickiness, but the softness of the sole really seems to complement the rubber. It's quite grippy in actual practice and you'll find it holds well on almost everything sans very thin edges. Other design benefits are the slightly downturned shape and velcro strap. The former helps maintain toe power, the latter prevents slippage during sketchy heel hooks.* The shoe's upper is unlined leather, so the fit is perfect once broken in.

In terms of sizing, I honestly can't remember what size I bought but I will caution- they stretch a lot. I tend to buy my shoes to the point where they're painful for the first 2 weeks and uncomfortable for the next 4 weeks. For these shoes, you should probably endure foot pain for a longer period.

The only negative (and this seems to be the case with the Boreal shoes I've used) is that the rubber wears through quickly. Specifically, the big toe area seems to be consistently problematic. You'll probably find yourself resoling faster with these than you would with other brands.


*I used these shoes before they designed the new finned heel. Personally I prefer the older heel to the newer one.