Team 5.10 Climbing Shoe
Item Details
|
Reviews
(
3
)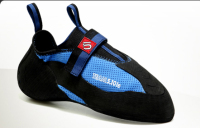 Manufacturer:
Five Ten



This item may be available at:
Description
Support Climbing Access Five Ten, Rock/Creek and Triple Crown have teamed up to bring you the brand spankin new Team 5.10 Shoe... 3 months ahead of schedule October through December, at Rock/Creek, the Team 5.10 Shoe will be 10 Off... and for each pair thats sold, Rock/Creek and Five Ten will donate a percentage of the proceeds to support the open climbing areas along The Cumberland Trail - which include The Obed, Buzzard Point, and Laurel Falls Routes/Bouldering. Another portion of the proceeds from the sale of this shoe will be going to help open potential future crags and boulder fields along the Cumberland Trail as well. 15 feet from the ground on the first ascent of a highball boulder in California, and the two things between you and reaching the top is your technique and climbing shoes, and with the NEW Team 5.10 shoe by Five Ten, worry no more. Designed with a collaboration of climbing shoe ideas from climbers such as Dave Graham, Paul Robinson, and Kevin Jorgeson, you get a shoe that boulders and sport climbs with the best of them. Built with an ultra-thin, but highly durable 3.5mm Stealth Mystique rubber soles allowing you to grab holds with your feet easily, making any hard sport route or boulder problem a bit more feasible. Awesome sensitivity with an even better fit, makes the Team 5.10 shoe the one to grab for your variety of climbing projects. Sensitive, surgeon like precision and a perfect fit. FIT INFORMATION: The Team 5.10 Climbing Shoe does not stretch, so we suggest you size the shoe to fit your street shoe size. The toe is downturned and narrow much like Five Tens Dragon Shoe, providing a precise fit for intermediate to advanced climbers. If you have any concerns about the fit of this shoe, please call our customer service hotline. 1-888-707-6708 For more information on the Cumberland Trail - please visit www.friendsofthecumberlandtrail.org
3 Reviews
Quite a Weapon
Review by: secander, 2011-06-07
Great shoe, it has helped me send projects which I was unable to do with my Miuras. That being said, they are quite uncomfortable compared to my Miuras. Great for overhanging routes, but if you try to do anything vertical or less, your feet may be in a great deal of pain by the time you reach the top.

Notes on Sizing:
These shoes are very small, you will probably need to upsize.


5.10 Team: 9 - feels quite tight
Quantum: 8.5 - feel very tight, I should probably wear a 9
La Sportiva Mythos: 6.5 (39 euro) - snug after break in
La Sportiva Miura: 7.5 (38 euro) - snug after break in
Street Shoe: 8/8.5
Send Your Project.
Review by: kharmapolice, 2010-07-01
The Team is one of the best shoes in years from Five Ten. I usually climb in the anasazi velcro but i really like these shoes. These are a great 2nd pair of shoes for anything over vert. I love the fit and the heel as compared to most down-turned 5.10's. The Team is quite similar to the v10's but they have a stap, which really doesn't do much as long as you size them right. I bought an 11 1/2 and i usually wear a 10 in anasazi's, and my street shoes are 11 or 11 1/2. I really don't have any complaints about them other than the price($150 something with tax) and all the black rubber on top gets really hot limiting use in direct sunlight. But i would def. recommend them for hard bouldering over the Jet 7 and the Dragon.
oh my!
Review by: jermanimal, 2009-10-26
These shoes are amazing...wish I had the same shaped foot as the last. They are hard to get on, once you do they are really tight and insanely powerful. The rubber is revolutionary, sensitive and edge well. The shoe is very well built and has a nice high heel, like the dragons. Now they have been fitting everyone I talked to, a half size larger then the dragons, they just have so much rubber on the toe they don't stretch at all.

BUT, they don't fit my heel well. I can get a killer heal in a 9.5 but can't feel my toes, in a 10 the toes have sensitivity again and no death crunch, but the heel has some space. I am sure you are thinking, "this guy just needs to suck it up, these shoes are not about comfort." Ok sure, I understand, but it is bone crunching can't feel my whole foot kind of pain, make you suck climbing kind of pain. That half size made a big difference, they probably would work in the 10 for me, especially with slamming down the strap. As it was I gave up on the 9.5 and sold them after 4-5 sessions.

I cried a little that day, these are probably the most high performance shoe out there, those who have had a bad experience with Jet 7s but love your dragons...sign up and buy these right away.