Vapor V Shoe
Item Details
|
Reviews
(
2
)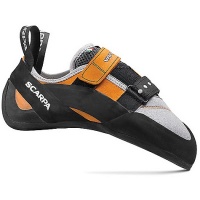 Manufacturer:
Scarpa



This item may be available at:
Description
The Scarpa Vapor V longs for techy climbs that challenge even the best footwork. The Vapor V is a technical and powerful shoe that features a relativly aggressive downturn and velcro straps making it an ideal choice for hard sport routes and boulder probelems. The super-sticky 4mm Vibram XS Grip2 sole sticks to smallest nubbins and chips around. If youre looking to up your climbing game and want a shoe to really ehance your footwork, the Vapor V might just be for you. The Vapor V features: Suede/Lorica Uppser Flexan Midsole 4mm Vibram XS Grip2 Sole Weight: 258g 9.1oz Powerstrap closure for easy on/easy off Confused about the sizing? Check out our Shoe Sizing Comparison Chart .
2 Reviews
Vapor V Shoe
Review by: fjellver06, 2011-12-24
Awesome shoe, great for sportclimbing, gym, and bouldering. They would be to uncomfortable for long trad climbs. They have great sticky rubber with a slight downcurve. The perfect combination of front stiffness, downcurve, backshoe flexibilty and comfort. I have Mortons toe and bilateral plantar fascitis and these shoes are the best I have ever used. Much more comfortable than the Miura VS velcro. Very high performing on the steeps. I love them.

Very accurate and technical shoe
Review by: cogmog, 2011-09-24
Been happy with this one so far. Wears pretty well, good on real rock and in the gym both. Not the widest toe box but ok for my wide planks. Does no stretch all that much ...just a little. I would recommend these to anyone looking to up there grade a little. I've been very happy with them.