Eldorado Tent
Item Details
|
Reviews
(
1
)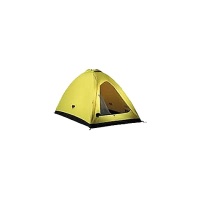 Manufacturer:
Bibler



This item may be available at:
Description
Bibler Eldorado Tent Fall 2009 The Bibler Eldorado Tent shares the same design as the I-Tent by Bibler, but is 13 cm 5 in longer and 8 cm 3 in wider to accommodate taller climbers. Dimensions for The Bibler Eldorado Tent: 221 cm x 130 cm x 109 cm 87 x 51 x 43 Bibler Eldorado Tent Weight: Tent and Poles: 2.04 kg 4 lb 8 oz Packaged: 2.3 kg 5 lb 1 oz Vestibule: 635 g 1 lb 6 oz Ground Cloth: 300 g 10.6 oz Bibler Eldorado Tent Packed Size: 18 cm x 48 cm 7 x 19 Bibler Eldorado Tent Area: 2.8 m2 30 sq ft
1 Review
Pro's and Con's
Review by: big_red, 2007-01-12
OK a partner of mine has this tent and we have spent a lot of nights in it. Before I say anything else let me say that this tent was only used during midwinter climbs in the Alaska Range temps down to about -25F. I am 5'10 and my partner is 5'11 and we both fit in this tent without a problem. Minimal gear can come inside with you and our packs always had to sit outside. This tent is one of the warmest I've used and will stand up to anything. I NEVER doubted it's integrity in a storm (and most tents make me nervous when the weather gets bad.)

What it does:
-fit 2 big guys and their boots, clothes, and cooking gear with some room to move
-frost up in cold weather (my bag was not waterproof and almost always got wet)
-pitch and tear down easily in bad weather (you can pitch it from the inside which is wonderful in a bad storm)
-heat up wonderfully in the sun (ours is the dark green)

What it does NOT do:
-let any wind in
-want to go into it's stuffsack when it is below 0F
-let any light in
-break (this tent is durable!!)

So there it is...take into account I have never used this tent in warm weather, in the summer, or pretty much in decent weather at all.